Improv 8-Week Series: Fundamentals
Sundays, 1:30 – 4pm
(Rescheduled!) March 19th – May 21st, 2017
Whether you've met improv before and want a new perspective, or whether you'd like to try your hand at it for the first time, come join us! This entry-level class will cover the fundamental skills of working together to make something delightful and hilarious from nothing. You'll learn to free up your own creativity and build an interesting character, flesh out a new world, and tell a good story. The Funhouse style is about freeing up possibilities, giving you the tools to improvise in any theatrical genre, from serious to surreal. No stage (or improv!) experience is necessary in order to take this class—but if you do have some experience, that's OK too; we'll tailor the class to who's taking it. If you're a writer, a shy person, an outgoing person, an actor, a storyteller, or just someone who wants to have fun, this class is for you.
Taught by Mandy Khoshnevisan (Funhouse Director of Improv).
Sundays, March 19th – May 21st, 1:30 – 4pm
(No class April 16th or May 14th)
Funhouse Lounge
Registration Fee: $240 ($200 for registration until Sunday, May 12th, 2017)
(Register Here)
*** To reserve a spot and pay in person by cash or check, email classes@funhouselounge.com
Mandy Khoshnevisan: Funhouse Director of Improv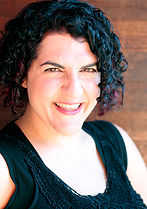 Mandy has been studying and teaching improv since 1996. She got her start at Stanford studying with Patricia Ryan Madson and performed with the Stanford Improvisors. She also studied, taught, and performed at
BATS Improv
, and was with the
Un-Scripted Theater Company
for ten years, developing shows and teaching improvised theater, music, puppetry, and more. Some of her favorite show creations include "The Great Puppet Bollywood Extravaganza" and "A Tale of Two Genres: An Improvised Dickensian Musical." She has performed at improv festivals across the country, from Southern California to Chicago to New York. In Portland, she teaches with Northwest Children's Theater, and she's performed on the mainstage at
Curious Comedy Theater
, the
Brody Theater
, and the Funhouse Lounge. Her most recent scripted work is as Mae in Reefer Madness and Eddie/Dr. Scott in The Rocky Horror Show, both at the Funhouse Lounge. She recently published her first book:
Managed Mischief
, a toolkit for improvising with kids OFFstage: at school, at home, and in daily life.